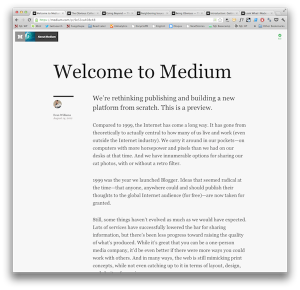 reply to Mark Carrigan, "Why Medium might be pretty great for academics" (21 Dec, 2013)
I agree @Medium [the publishing platform founded by Twitter co-founders Evan Williams and Biz Stone in August 2012] is quite interesting, especially for rethinking experience from author's side. On the other hand, I'm bothered by the centralization (vs eg people using diversely hosted & designed/featured blogs and open-source tools), and in particular by its manifesting of the larger trend away from open comments/conversation.
I tend to agree with something Mathew Ingram said, "A blog without comments is a soapbox." (http://bit.ly/1dmftBK). Voices in isolation, not engaged with challenging or divergent views, is a key problem in our whole information environment (from personal to popular to academic, etc., I think).  [I examine this point in more detail in "Collaborative Argumentation and Advocacy" 1 June, 2013].
Nowadays I see many people accepting the idea that open commenting online is impossible or undesirable, that it inevitably succumbs to abuse. But most comment/forum systems are quite naively implemented and run, making little use of decades of accumulated knowledge we have about how to make them work. Also, there is increasing robustness and steady evolution in systems to implement/integrate commenting at large scale, such as Disqus, LiveFyre, IntenseDebate, and (integratively) Twitter, Google+ etc.