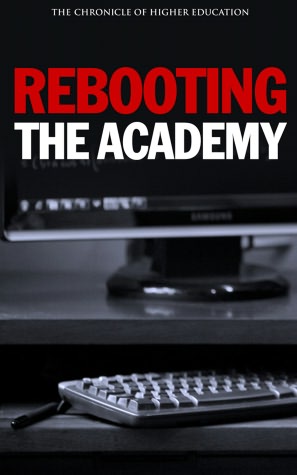 The book I co-edited with Jeff Young, Technology Editor of The Chronicle of Higher Education, is now out from the Chronicle. It includes the profiles from the original Chronicle special feature, "Rebooting the Academy: 12 Tech Innovators Who Are Transforming Campuses," plus essays by each contributor, and an introduction by Jeff.
This was an exciting project, at what is clearly a watershed moment of change in higher education. Aside from profiling and celebrating a group of extraordinary education-tech innovators, we were also exploring the new possibilities of book publishing today, when the doors are wide open for new parties to assemble and publish books, and in some ways the notion of "book" is open for reinvention.
Rebooting is available for $4.99 in multiple outlets & formats, and a free sample (includes the introductory essay) is available:
Amazon (Kindle edition)
Apple iTunes store
for purchase from within the Chronicle iPhone App
We may add a print edition (print on demand) later.
Thanks, Jeff and the Chronicle, it was great working together on this. Full table of contents is below.
See also the Chronicle's announcement.
.
Table of Contents:

Rebooting the Academy 12 Tech Innovators Who Are Transforming Campuses
Introduction – Jeffrey R. Young, Chronicle of Higher Education
1. Salman Khan, Khan Academy
Profile: An Outsider Calls for a Teaching Revolution
Essay: YouTube U. Beats YouSnooze U.
2. Daniel J. Cohen, George Mason University
Profile: A Digital Humanist Puts New Tools in the Hands of Scholars
Essay: Is Google Good for History?
3. François Grey, Tsinghua University
Profile: One Researcher's Solution to the Data Deluge: Enlist `Citizen Scientists'
Essay: Opening Up Science, One Lab at a Time
4. Kathleen Fitzpatrick, Modern Language Association
Profile: An Academic Hopes to Take the MLA Into the Social Web
Essay: Networking the Field
5. Bradley C. Wheeler, Indiana U.
Profile: A Business Professor Turned CIO Practices What He Teaches
Essay: Fixing the High Price of Textbooks
6. Robert W. Mendenhall Western Governors U.
Profile: A President Brings a Revolutionary University to Prominence
Essay: Using Technology to Build a New Kind of University
7. Jim Groom, U. of Mary Washington
Profile: Self-Described `EduPunk' Says Colleges Should Abandon Course-Management Systems
Essay: Innovation As a Communal Act
8. Adrian Sannier, Pearson
Profile: Software Evangelist Wants to Put Learning-Management Software in the Cloud
Essay: Education's Digital Shift: If Not Now, When?
9. Burck Smith, StraighterLine
Profile: Entrepreneur Finds a Way to Offer Credited Courses on the Cheap
Essay: Disrupting College: Lessons from iTunes
10. Candace Thille, Carnegie Mellon U.
Profile: Treating Higher Ed's `Cost Disease' With Supersize Online Courses
Essay: Changing the Production Function in Higher Education
11. Laura Czerniewicz, U. of Cape Town
Profile: Technology Director Turns Cellphones Into Classrooms
Essay: Educational Technology for Equity
12: John P. Wilkin, U. of Michigan
Profile: Grounding Tomorrow's Digital Library in Traditional Values
Essay: The Past, Present, and Future of the HathiTrust Digital Library
Acknowledgements
About the Editors
.
.
.